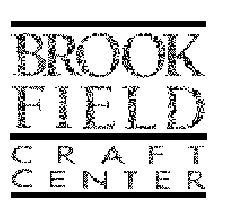 .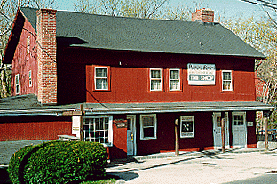 Brookfield Workshops
---
Winter 1999 Classes and Workshops
Weekly Classes Starting January 18
Jewelry Making PM with Anne Marie Ciuffini
Intro. to Jewelry AM with Lessley Burke
Jewelry/Enameling AM with Joanne Conant
Ceramics on the Wheel AM with Kristin Muller
Ceramics on the Wheel PM with Kristin Muller
Intermediate Clay with Kristin Muller
Chair Seat Weaving with Dee Wagner
Wire Jewelry Techniques with Tony Haruch
Table Loom Weaving with Barbara Dull
Glass Fantasy with Linda Banks
Polymer & Cloth Dolls with Paula Walton
Stonecarving with Andy Davis
Bas Relief with Bruce Wallace
Handmade Stools with Larry Hendricks
Video Productions with Claire Mortilla
Basic Photography with Mike Serao
Weekend of January 16 - 17
Shoji Screen with Toshio Odate
Repousse with Sue Sachs
Mural Painting with Virginia Teichner
Mosaics with Jeff Havill
Weekend of January 23 - 24
Introduction To Bowl Turning with Andrew Barnum
Silversmithing with Raychel Wengenroth
Handcoloring Photography with Laurie Klien
Advanced Polymer with Steven Ford
Basic Glassblowing I with Chris DeMott
Pop-Up Books with B.J. Greenberger
B&W Polymer Mosaics with Steven Ford
Weekend of January 30 - 31
The Electronic Brush with Ken Graff
Sponge Marbling with Victor Demasi
Decorative Floors with Victor Demasi
Gilding with John Sansbury
Kiln Fired Glass with Mary Ellen Buxton-Kutch
Books: Personal Adornment with Miriam Schaer
Weekend of February 5 - 7
Majolica with Mary Lou Alberetti
Torch-fired Enamel with Marjorie Simon
Thread Paintings with Missy Stevens
Sculptural Paper Lamps with June Tyler
Chip Carving with Craig Farrow
Weekend of February 12 - 14
Low Temp Salt Firing with Richard Launder
Perspective Drawing with Jeff Havill
Root Head Dolls with Tracy Stillwell
Glass Beads with Connie Pollard
Weekend of February 19 - 21
Wire Jewelry with Tony Haruch
Japanese Baskets with Nancy Moore Bess
Basic Glassblowing II with Chris DeMott
Painted Floor Cloths with Virginia Teichner
Weekend of February 27 - 28
Lost Wax Casting with Fred Woell
Cement Casting with Jeff Havill
Stained Glass Weekend with Debbie Breither
Chunky Treasure Bracelets with Ellen Hess
Spiral Beaded Nets with Ellen Hess
Weekend of March 5 - 7
Pottery:Eastern Influence with Steven Rodriguez
Glass Beads I: Simple Set Up with Cynthia Liebler
Glass Beads II: Simple Set Up with Cynthia Liebler
Shoemaking with Sharon Raymond
Gourd Vessels with Keith Hatcher
Paper Marbling with Dea Sasso
From the Bottom Up with Michael Saari
Weekend of March 12 - 14
Rustic Furniture with Lillian Dodson
Transfer Etching Techniques with Katherine Wood
Fine Design Principles with Mark Baldridge
Penny Rugs with Jan Meyrick
Weekend of March 20 - 21
Paper Cut & Screenprinting with Kris Kapenakas
Basic Glassblowing I with Chris DeMott
Ukranian Eggs with Jane Pollak
Primitive Wood Graining with Virginia Teichner
Epoxy Resin with Susan Sloan
African Zulu Necklace with Wendy Ellsworth
The Potential of Clay with Jeff Shapiro
Weekend of March 26 - 28
Altering Glazes with Jeff Zamek
Copper Water Fountains I with York Butler
Image Transfer with Stephen Sonshine
Polymer Beads & Buttons with Barbara Heinish
Router Basics with Paul Levine
Plus Many More Scheduled through March...
---