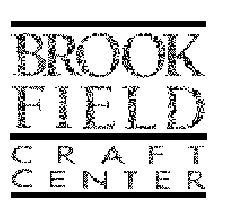 .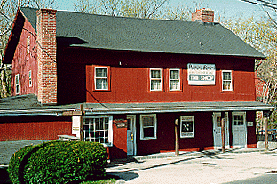 Brookfield Videos
---
Study at Home with America's Finest Craftsmen
with the Brookfield Craft Center Video Library
Why do students from St. Louis to Singapore travel great distances to study at the Brookfield Craft Center? For each craft pilgrim the answer is the same.... to study with the best of America's designer craftsmen. Now students who cannot travel to Brookfield Craft Center can bring master craftsmen into their home and studio. The Brookfield Video Library offer high quality professional level instructional on video tape.
The tapes are distinguished for their high production values and brilliant visual quality. Computer driven graphics and video paint programs enhance the live action. On screen chapter titling and definitions of terms help creates a truly superior educational product which is also a real pleasure to watch. Reviewed in The Crafts Report, the video tapes have been described as, "remarkable... setting a new standard for video instruction". They were recently featured on the QVC Home Shopping Channel.
Seeing ultra tight close ups of delicate and manually fussy techniques, which can be instantly replayed over and over again, provides enhanced opportunities for learning that simply are not available otherwise, even to students in hands-on workshops. The information presented is concise and easily translated into the home environment. The tapes are highly entertaining as well as educational; even for people who would not think of making fine handmade craftwork themselves. They are also great for children and teenagers.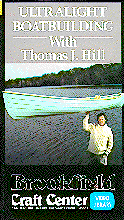 Video: Ultralight Boatbuilding With Thomas J. Hill
Ultralight canoes and small boats are objects of elegance and beauty that provide years of fun and enjoyment on the water. This tape provides viewers with a start to finish step-by-step guide for building a unique light weight small wooden boat using techniques developed by respected boatbuilder, teacher, and author, Thomas J. Hill. No fancy tools or materials are required...all you'll need is care & patience and some basic woodworking skills to create an unusually strong and light high performance one person lapstrake canoe made with marine plywood and epoxy glue. Some of the many topics covered include: lofting, plans & drawings, making jigs, planking, gluing, scarfing, painting & varnishing, sources of materials, and even some tips on small boat care & handling.
VHS: 135 Minutes................................$39.95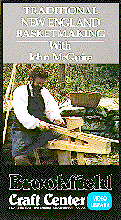 Video: Traditional New England Basketmaking With John McGuire
Learn to make the elegant traditional splint baskets of colonial New England with nationally acclaimed author, historian, and basketmaker John McGuire as he guides you thorough a step-by-step exploration of the traditional handmade basket experience. This unique tape is a complete workshop in a box. It takes viewers on a unique journey which includes stalking the black ash (basket) tree on location in Western Massachusetts, learning how to prepare materials, and the start-to-finish making of a traditional swing handle basket. The information contained is the functional equivalent of an intensive five day hands-on workshop on the subject. The information presented is concise and easily translated into finished baskets you can make at home using widely available materials.
VHS: 90 Minutes..................................$39.95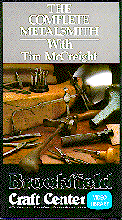 Video: The Complete Metalsmith With Tim McCreight
This unique video curriculum has been designed to suit everyone who is interested in creating fine handcrafted jewelry. It is an extremely valuable resource for beginning students, teachers, working jewelers and metalsmiths. The tape is a video encyclopedia of jewelry making that has been divided into color coded chapters which cover all the major elements of making fine jewelry including: joining, cutting, forming, & surface techniques; plus a last chapter which applies the techniques presented by making several pieces of jewelry. This fast paced and comprehensive video curriculum covers an extremely large amount of material in a well organized fashion that is easily located and relocated. Above all the information is practical.
VHS: 70 Minutes..................................$39.95
---
Please provide the below information in an email using the below convenient link:
Name [____________________________________________________________]
Address [_______________] City [______________] State [_____] Zip [_____]
[__] Ultralight Boatbuilding with Thomas J. Hill at $39.95
[__] The Complete Metalsmith with Tim McCreight at $39.95
[__] Traditional New England Basketmaking with John McGuire at $39.95
VISA [__] MASTERCARD [__] AMERICAN EXPRESS [__]
Card # [_________________________________________] Expiration [_____]
I authorize Brookfield Craft Center to charge my credit card in the above amount.
(_) Check Here to complete transaction.
---
---