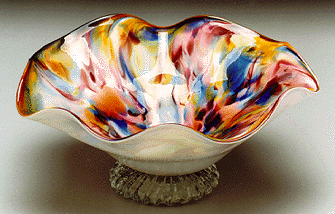 Edisto River Glassworks
---
Located on the river for which it is named, Edisto River Glassworks is surrounded by the beauty of nature. Low country life will always influence the direction of the work. Cypress trees, black water river, wildlife in abundance, including fish, ducks, lots of alligators and deer all contribute to the inspiration that go into the hand blown glass made here.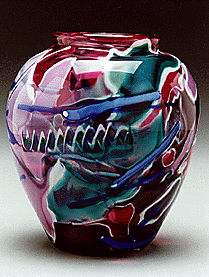 Constance Hall has been working with glass for 15 years and 5 years ago with her husband Herman Leonhardt built a hot shop of their own. This husband and wife team design and execute each piece of contemporary handblown glass shown here.
ERG offers one of a kind pieces that are unique, with new work being created each time they enter the hot shop. Please email us to find out about our latest work. ERG also offers a popular production line.
The work is always changing and growing, continuing education helps provide new paths to follow. Studies at Penland Craft School and Pilchuck Glass School under founding members of the American studio glass movement helps provide a firm footing to build on.
---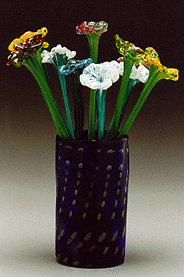 ERG's work can be seen at juried Art and Craft shows and galleries throughout the Southeast.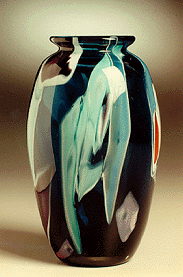 "Blowing glass is a hot and exciting medium in which to work. The challenge is controlling 2000 degree molten glass, infusing it with color and inspiration and shaping it to match your imagination. Working with heat and gravity, time and temperature make reality of the vision. Physically demanding and requiring total focus in each and every piece in a continual evolution of process. The doing of it is as important as the finishing of the piece, but the end result is taking a cooled piece out of the annealer, seeing the true color and feeling the glass in your hands for the first time. Quite a rush!"
How to Contact Constance and Herman
Edisto River Glassworks
PO Box 74
Branchville, SC 29432
---
CraftWEB Home Page , CraftWEB Artisans Page